To steal
Karen's words...
I am not a resolution person. I am a goal person. This year, I've decided to share my Project 52 with you. It's a list of 52 goals I hope to accomplish and/or complete in 2011. I'm going to keep the list in my sidebar so you can see my progress. You can totally ride my ass if I start slipping. If you'd like to join in, click the button at the bottom of this post.
Project 52
1. Read 30 books.
2. See 8 movies in the theater.
3. Save $1000.
4. Buy a new car.
5. Go to the gym at least 3 days a week.
6. Keep an exercise log.
7. Be bikini ready by May 1.
8. Print out all the pictures I've taken and get them into albums and/or scrapbooks.
9. Find my dream job, or at least get on the path to finding my dream job.
10. Take a Photoshop class.
11. Take a photography lighting class.
12. Take a trip with The Hero even if it's only for 2 days.
13. Meet at least 1 blog friend.
14. Host a party and/or cookout in the summer.
15. Get some family photos taken.
16. Complete at least 1 craft project.
17. Research genealogy on both sides of my family.
18. Donate money to
St. Jude.
19. Watch 20 movies from my Netflix queue.
20. Visit Graceland.
21. Go to a Redbirds game.
22. Go to a Grizzlies game.
23. Go to a museum or art gallery.
24. Get new glasses and make myself wear them.
25. Try on a pair of jeggings.
26. Take the kids to the sprinkler park no matter how hot it is.
27. Go to the zoo at least 3 times during the summer months.
28. Take the kids to the Children's Museum two times.
29. Take Little Man to the Pink Palace.
30. Teach Little Man to tie his shoes.
31. Potty train Little Bit.
32. Take a road trip with the girls.
33. Get a new tattoo.
34. Visit my aunt and cousins.
35. See at least 2 musicals at The Orpheum.
36. Go to 2 concerts.
37. Implement 3 things at home to live more
green.
38. Design 'The Talk of Tinseltown' t-shirts.
39. Participate in
NaNoWriMo.
40. Participate in DePhoMo.
41. Get my gun permit.
42. Cook something from scratch.
43. Take more pictures.
44. Write every day in my
One Line A Day Journal.
45. Tear out everything in my flower beds and plant new stuff in the spring.
46. Get a celebrity to host a giveaway on my blog.
47. Start a book club.
48. Sign the kids up for swimming lessons.
49. Start learning Spanish.
50. Suck it up and see a dermatologist. (Skin cancer scares me.)
51. Send 3 handwritten cards or notes to friends.
52. Donate $5 for every item not completed.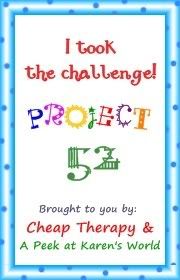 Did you set any goals for 2011?

What are they?