First of all, I would like to congratulate the winner of my drinking giveaway.



Hissyfits & Halos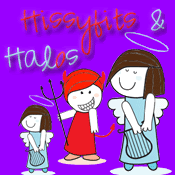 Go ahead. Tell her how jealous you are.
---
I went shopping at lunch today with my fabulous friend and coworker,
Terri.
When we were almost to her car, I noticed this giant man. Seriously, he was at least six foot three. He looked at me, looked away and looked back again. Dude was checking me out. You can ask
Terri
if you don't believe me. She noticed it too.
Anyway, this reminded me of the Target pervert I never told you about. The Hero and I were picking up a few necessities with the kids in tow.
Please tell me I'm not the only one who goes to Target three times a week.
As we were leaving, he tells me a guy from a couple lanes over was taking pictures of my ass with his phone.
"What did you just say?"

"Some guy was taking pictures of your ass with his phone."

"Are you sure?"

"Positive. There's no way he was taking pictures of anything else."

"Why didn't you go over there and kick his ass?"
"I'm flattered. Blah blah blah. You should be too. Blah blah blah."
---

Final Thoughts

1. Giveaways are fun.

2. Guys think I'm hot.

3. Pictures of my ass are probably on the internet.