Today's guest post comes to you from Mimi at Living in France. At this point, I can't even remember how I found Mimi. Did she find me? Who knows! What I do know is that she never fails to make me laugh. If you're not following her, you're missing out. She brings
the joy
, people.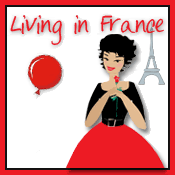 ---
Hi everyone! I'm so completely freakin' flattered that hotpants™ asked me to do a guest post for her! She's my homegirl. <--- She taught me that homegirl is, indeed, one word. Where would we all be without her?! I shudder to even think about it. If you don't know me or read my blog, then you
are so missing out
probably don't know about my weekly feature, F-Bomb Friday. It is the feature in which I share some
douchey
embarrassing story where I usually come off looking really stupid or bad. Sometimes they are not so funny, like maybe twice. Hey, I try to keep it light over in
France.
Without anymore yammering, here is an F-Bomb Friday for ya. And, people, I
saved
this one. I saved it for
you
!
Okay, maybe I was too embarrassed to post it on my blog which may or may not because my aunt reads it. You will understand what that means when I shut the heck up and just get on with it.
This is the one in which I scope out members of the opposite sex at a funeral.


And, yeah, I'm a married stay at home mom who is a bit on the fat pleasantly plump side.


I had no business checking anyone out.


Especially at a funeral.


Let me clarify that.


Especially at my Grandmother's funeral.


Yes.


I'm a complete asshat sometimes.


Onto the good stuff.


Here we are, my entire family and a few close friends who I don't know, in a church. We're gathered in our Sunday best to pay our last respects to my 83 year old grandmother. There were a bunch of people from out of town there who I didn't recognize. Family and friends both.


So, I'm sitting there worrying about my stupid pantyhose and I notice a nice looking man across the lobby.


I'm thinking that I like his goatee... he's slim, tall, blond (which usually isn't my thing) and looks pretty stylish.


Wonder if he's single?


**checks the ring finger**


Yep. Single!


Does he have a girlfriend?


**looks for women around him**


Nope. Just my cousins.

*




Wonder how old he is?


**tries to see if there are wrinkles**


Hm. Not old, but older than me.


Wonder if he's friendly...


**smiles at him**


Yep, he's friendly! Smiled back!


Must find out his name.


**leans over and asks my mom, "Who's that guy over there?"**


"Oh, that's Chris.

**

You know. Your cousin."




***sounds of tires coming to a screeching halt***




Oh.My.Hell.


In my defense (and I totally need one here) I hadn't seen Chris in 8 years.


And.


Tell me you don't check for wedding rings on good looking guys whether you're married or not.


What?


You don't?


Whatever.




*Hello. Cousins? Should've been a red flag on that one.




**Like

I'm

gonna use his real name. I have to protect the innocent. And myself.


Thank you for letting me guest post, hotpants™!
Have a great weekend, everyone!