Ladies, it's official. Zack Morris is single. Mark-Paul Gosselaar's rep confirmed the Saved by the Bell star has separated from his wife after fourteen years of marriage and two children. Raise your hand if you want to get on the Zack train!
Do you know what else is official? Well, do you? Tom Selleck has confirmed there will be a third film in the
Three Men and a Baby
franchise. Tom, Ted and Steve are all available, a script has been written and the film is tentatively titled
Three Men and a Bride
. I loved
Three Men and a Baby
so I'll definitely give this one a shot.
Does anyone else think it'll be weird seeing these three guys watch their daughter get married when they all still look so young?
People have been speculating about Mariah Carey's womb for over a year now. This time she may really be pregnant. A source close to Mariah leaked the story to US Weekly, and Nick Cannon apparently let it slip in conversation. She's just shy of the three month mark so an official announcement could be coming soon.
Sheryl Crow has adopted a second child. She posted the following announcement on her website.
"Wyatt has a new little brother! Levi James was born April 30th."
Denise Richards and Richie Sambora are said to be 'quietly dating'. I don't think such a thing exists in Hollywood, but whatever. The two began dating in 2006, but the romance fizzled amidst a media circus.
Gossip Girl's Chace Crawford was arrested for marijuana possession. He was in a car with a friend when he was busted with one unlit joint. Lindsay Lohan hasn't been to jail yet, but this guy gets arrested for one unlit joint? It just doesn't seem fair.
Miley Cyrus recently performed on Britain's Got Talent where she pretended to kiss a female dancer. The two didn't actually lock lips, but they got awfully close. Miley then took to her website to deny the 'almost kiss' and point the blame elsewhere.
1. Miley craves attention.
2. Miley is

NOT

Britney Spears.
3. Miley shouldn't deny something that was watched by millions.


James Cameron said BP oil chiefs turned down his offer to help stop the massive slick which is threatening the Gulf Coast. The
Titanic
director, a deep-sea diving pioneer who has worked with robot submarines, met with experts on Tuesday to brainstorm ideas. His offer of help was graciously turned down. The man has ideas, money and Leonardo DiCaprio on his side. BP, you'll be sorry when your 'half-ass cap' doesn't contain the mess you've made.
Kristen Stewart issued an apology after comparing her fame to being raped. I only have one tiny piece of advice, Kristen. Think before you speak.
Rue McClanahan, who played Blanche Deveraux on The Golden Girls, passed away at the age of 76. Betty White said, "Rue was a close and dear friend. I treasured our relationship. It hurts more than I even thought it would, if that's even possible."
RIP Rue
Thank you for being a friend.





The Talk of Tinseltown was brought to you today by...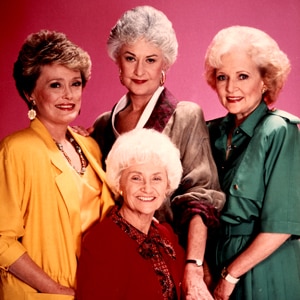 The Golden Girls