Everyone loves a good drunken puke story. I've got several. Why not share them with you...
cause it's Friday, you ain't got no job and you ain't got shit to do.
1. I've thrown up
twice
in my hands. The first time was in a downtown Memphis club called Have A Nice Day Cafe. I downed a Happy Bowl with one of my girlfriends. What's a Happy Bowl? It's a large bucket filled with a liquored fruity concoction and several straws. It's probably meant to be shared by three our four people. I drank it really fast. I'm guessing I didn't have anything for dinner. I made this mistake a lot. The sickness hit me pretty fast. I took off running for the bathroom, but didn't quite make it. I started to puke in my hands. I caught about 75% of it. The rest ended up on my jeans. My BFF Kelly helped me clean up. A girl in the bathroom was extremely understanding. "Girl, I have so been there." I was escorted home shortly after.
2. The second time I threw up in my hands was at a bar in Nashville. I was in town for a tanning conference. If you're new to my blog, I was a tanning salon manager for five years. Anyway, shots were being ordered and paid for by people I didn't know. A nice girl from Memphis doesn't turn down free
tequila
shots. I'd already had a few Smirnoff Ice. What would two or three shots of tequila hurt? At this point, even though I was a seasoned drinker, I knew I was going to throw up and soon. I ran to the bathroom, puked into my hands as I passed the bar and finished up in the bathroom. I didn't get any vomit on my clothes or shoes. I didn't even get any in my hair. I rinsed my mouth out, threw a stick of gum in my mouth and went back to dance the night away. Now that is what I call a WIN!
3. I've got another tequila story for you. My BFF and I shared a fifth of tequila one night. I made it until the end of the night before I started to feel ill. This was one of those nights where I wanted to throw up more than anything because I knew I'd feel better. I might have said this out loud when a guy started talking to me about bean burritos from Taco Bell. He knew the thought of eating one would make me throw up. He was right. Might I mention that he lived across the street from an elementary school... I just happened to be lying on the cold concrete of the school parking lot when this occurred. I threw up in a metal grate. Classy!
4. The Hero and I had just started dating. He and I went to one of my friend's houses. There were eight to ten people there. We were drinking before heading to the club. I drank one too many Screwdrivers and ended up dancing on the island in the kitchen. Several of us stood up on the island to shake our booties a time or two. I ended up sitting down and straddle dancing on the thing. I shook my head around a little too hard one time and cracked my nose and face on the surface. I just knew I had broken my nose and was waiting for the gush of blood, but it never came. So, you guessed it, I continued to drink. When we finally loaded up in the car to go to the club, it was only then that I started to get nauseous. We made it a block or two when I rolled down the window and puked. We stopped at a car wash so they could wash the white Nissan Pathfinder we were in and took me back to the house to rest. I slept it off and went home. I was so disappointed that I didn't make it to the club.
5. Last, but not least, there's the night I drank PGA Punch. If you don't know what this is, you're missing out. It's Pure Grain Alcohol mixed with Kool-Aid. I had two large cups of this yummy punch. I had never had it before. I was enjoying the hell out of it because it tasted just like Kool-Aid. You couldn't taste the alcohol at all. Why didn't I think this was a bad thing? Fast forward thirty or forty-five minutes, I'm sitting at a table with friends. The next thing I know my BFF is shaking me awake because I passed out mid-conversation. What do you think happened next? I ran for the bathroom and puked red for what seemed like an hour. Thankfully, the red wasn't blood. It was just that damned cherry Kool-Aid I was telling you about. I can tell you this. I never ever drank PGA Punch again.
Now, I only drink once or twice a year minus the occasional cocktail. I'm not sure why I ever did that to myself. It's not like I knew I'd be blogging about it years later.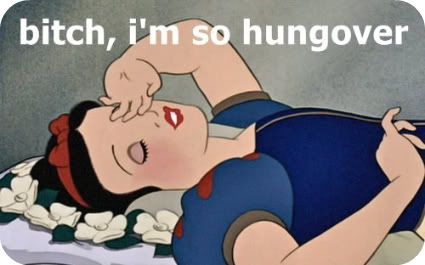 So, do you have any drunken puke stories to share?