No one ever told me about the 'pee issues' I'd experience after giving birth. When I laugh, I pee a little. When I sneeze, I pee a little. When someone scares me, I pee a little. Sometimes, when I sit down, I pee a little. Sometimes, when I stand up, I pee a little. Sometimes, like this week, I lose all bladder control and wet my pants for no apparent reason. By wet my pants, I mean I had to go put on another pair. My mom didn't share this with me. My girlfriends didn't share this with me. My doctor didn't share this with me. I didn't exactly ask, but that's not the point.
Who thinks to ask, "Will I piss myself occasionally after having a baby?" "Will I need to keep an extra set of clothes in my car, so I don't smell like urine all day?" "When I pee in the restroom, will it be so loud that I want to cry out in embarrassment?" "Should I call ahead to places I'm going, to find out where their restroom is located, so I can get there as fast as possible when I arrive?" "Will my husband think I'm crazy when I can't make it home from the restaurant and have him stop somewhere in between so I don't pee in his truck?"
No woman ever thinks to ask these things. Loss of bladder control should have its own chapter in every pregnancy book. It should be on the warning label of both birth control pills and condoms. Hell, somebody should put it on a billboard. And yes, I did the
Kegel exercises
the doctor suggested. Those can only help so much. Some things will never be the same after giving birth. This just happens to be one of them. If you read this, you can't say you haven't been warned. From one human to another, I beg of you, please pass this on.
Bonus Fun Fact:

Ever notice how Britney Spears is always using public restrooms?

Ever sat and wondered why?

Girlfriend's had two kids.

THAT'S WHY!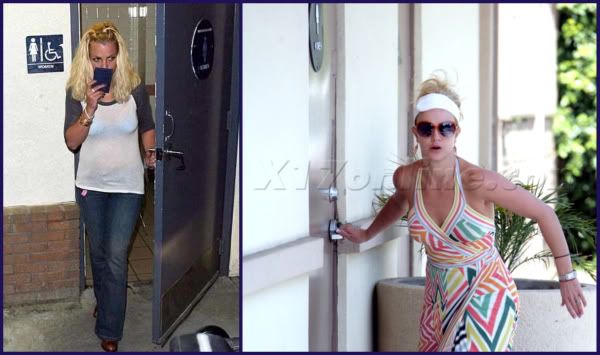 I apologize if I made any of you moms out there pee a little just now.

I can sympathize. I peed no less than three times while putting this post together.