For the next three days, I will be introducing you to three male bloggers. They follow my blog. I follow theirs. I thought it would be fun to ask each of them the same series of questions so we can see how similar/dissimilar their answers are. Ian's up first. He's one of my bestest Twitter buddies.
Disclaimer: Remember, these are men we're talking about so there will be inappropriate language. It's just how they roll. You'll see my thoughts below in pink.
Name: Ian
Age: 33
Location: Maryland
Superhero Name: Big Cretin
Blog:
I Carried A Watermelon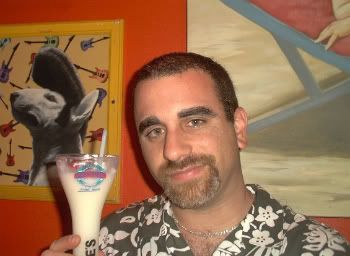 1. Since your wife can't read your mind, what would you like for Valentine's Day other than sex?
More sex.
Just like a man to completely ignore the question.
2. What's one simple thing you wish every woman understood?
The fact that I am crude. I fart. Given the fact that everything I say isn't funny, but most shit is. Get with the program.
He speaks the truth. Ian is both funny and crude.
3. All guys name their penis. Go ahead and tell us what you call yours.
Nothing currently. Used to call it James. As in James Hetfield.
He's referring to this guy, the lead singer of Metallica. Well, that's certainly interesting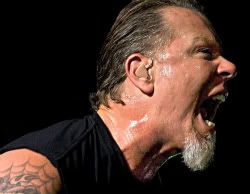 4. You're allowed to cheat with 5 celebs. Who are they?
Jenna Fischer, Susanna Hoffs, Jenna Fischer's clone, Susanna Hoffs' clone, and Susanna Hoffs' and Jenna Fischer's love child.
5. Describe yourself using only 3 words.
I fucking rule.
6. Name one chick flick you actually enjoyed.
Dirty Dancing. Clearly.
Oh, Ian. You're such a girl.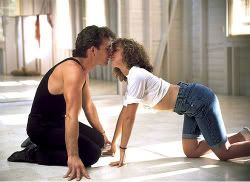 7. Batman, Superman or Spider-Man? Why?
Spider-Man is the shit. Batman is a fucking pussy. He's a psycho-quasi ninja who has daddy issues. Shoot his face point blank, he's toast. Superman? Kryptonite pretty much kills him. He sucks. Spider-Man? He simply rules. Not only did he date the smoking hot Gwen Stacy, but he married the 'curtain matching the drapes' Mary Jane. Last I checked Lois Lane was a butterface and Batman's gay. You heard it here first.
Well, I totally disagree. Batman has the Batmobile, the Batcave, Catwoman, and a super sexy black suit with a cape. He clearly wins. Obviously, I'm talking about Christian Bale as Batman, but that's not the point.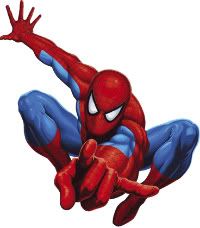 8. They're making a movie about your teen years. What's it called?
A Tale That Wasn't Right
9. You're on Death Row. What will you order for your last meal?
Cheeseburger Macaroni Hamburger Helper
This makes me laugh.
10. Tell us a joke.
What's the difference between canoes and Jews?
Canoes tip.

I am Jew. Hear me roar. Rawr.