Last, but not least, we have Jay. Jay was my first male blog friend. {Obviously, he's super lucky.} He has seriously cracked me up since day one. He writes clever and witty posts, has
mad graph skills
and runs a weekly poll in his sidebar that always has me thinking long and hard before I vote. Yep, I just said long and hard. #TWSS
Disclaimer: Remember, these are men we're talking about, so there will be inappropriate language. It's just how they roll. You'll see my thoughts below in pink.
Name: Jay Ferris
Age: 31
Location: Seattle, WA
Superhero Name: Doctor Awesome
Blog:
Genius Pending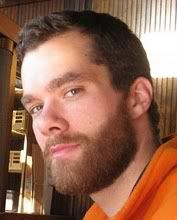 1. Since your wife can't read your mind, what would you like for Valentine's Day other than sex?
Han Solo and Slave Leia costumes. Also, a bed shaped like the Millennium Falcon.
Nerd!
2. What's one simple thing you wish every woman understood?
Lefty loosey, righty tighty
3. All guys name their penis. Go ahead and tell us what you call yours.
Old Faithful
4. You're allowed to cheat with 5 celebs. Who are they?
Eliza Dushku, Anne Hathaway, Daniel Tosh, Layla Kayleigh, Kate Beckinsale
Brunettes for the win!
5. Describe yourself using only 3 words.
Prefers being different
6. Name one chick flick you actually enjoyed.
In May of 2009, I did a 30-day challenge that required me to watch and post a review of a new chick flick every day for a month. Even though the overall experience took about 10 good years off my life, one of the brighter spots was Return to Me starring David Duchovny and Minnie Driver. It's a sappy love story about two sexy people with really supportive friends and a penchant for doing the right thing. Basically nobody I could ever identify with.
I'd like to point out that he watched Twilight too. Even though he hated it, he gets major points for sitting through it.
7. Batman, Superman or Spider-Man? Why?
Spider-Man. Superman has the burden of living forever as well as feeling responsible for an entire planet. Batman is too crazy at times and prefers hanging out with little boys. Spider-Man is a genius, dork, smartass, marries a redhead, and never has to work out or get up from the couch to grab the remote.
Men and women really don't agree when it comes to superheroes. Spidey is my least favorite.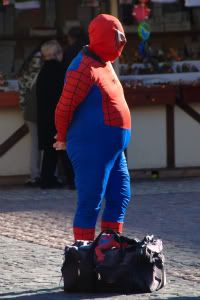 8. They're making a movie about your teen years. What's it called?
"Nobody's Watching"
9. You're on Death Row. What will you order for your last meal?
Chicken fried steak with country-style gravy, mac and cheese, baked beans, and a side of candied bacon. Dessert would consist of three pies; one cherry, one lemon meringue, and one chocolate cream. The goal here is to eat myself to death, thus saving taxpayer money in a final act of redemption.
10. Tell us a joke.
Here's one that is not only awful, but noteworthy because a guy told it to me within 10 minutes of meeting me at a bus stop.

Q: What's the difference between a crack whore and an onion?
A: I cry when I slice up an onion.

I guess people just feel like they can speak freely with me. Either that or they think I like to murder people.
I totally snorted at this. Does that make me a sicko?