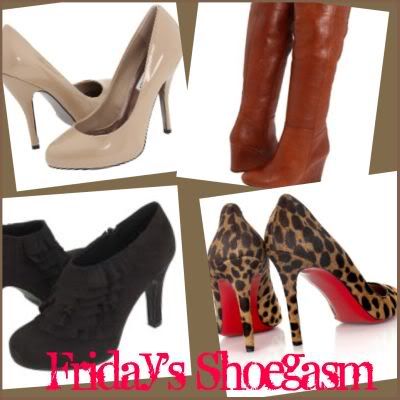 I was browsing the shoe section at Kohl's when I spotted a misplaced pair of heels on a shelf in front of me. It was just the one pair. They were black and super cute. I picked them up, realizing they weren't my size. I liked them enough to look for more, so I started walking up and down the aisles. I had almost given up when I spotted them. It was quite the magical moment when I realized they had two pairs in my size. Unfortunately, the box said $69.99. I told myself I couldn't rationalize a pair of $70 shoes. I wasn't at Kohl's for shoes. The more I stared at them, the more they called my name.
Misty! Misty! Misty!
I decided to try them on. It would make me feel better if they didn't fit, or looked ugly on my feet. And that, ladies, is when it happened. The shoes fit like a glove. The shoes were comfortable. Upon my feet, the shoes became
the hottest pair of shoes ever
. I took a picture, texted
the best friend
and told her I couldn't buy
the hottest pair of shoes ever
. I told her I might cry. I knew she'd understand. With extreme sadness, I walked back to the shelf. That's when I realized… The $69.99 pair of
the hottest pair of shoes ever
were ON SALE for $39.99. I texted the bestie as I hugged the box tightly to my chest, told her she could borrow them anytime and ran to the register as angels were singing.
Hallelujah! Hallelujah! Hallelujah!
A $40 pair of shoes is a STEAL when your best friend wears the same size. It's really a win-win situation for everyone.
Here is the picture of
the hottest pair of shoes ever
, that I took in the store with my trusty iPhone. They'll be making their debut at GIRLS' NIGHT OUT tonight!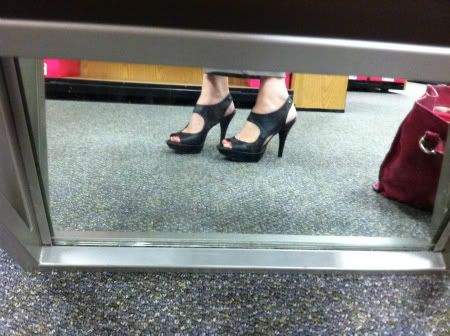 Vera Wang from Kohl's