In the last couple of weeks, I've tried to break myself of not one but two bad habits. The first is a habit I haven't been able to break for the last THIRTY-TWO YEARS. Yes, that's right, I've been biting my fingernails my whole life. I know it's a nasty habit. My grandmother has pointed it out since I was a kid. Over the years, I've tried a little of this and a little of that. I don't know why it
may
have clicked this time. I have officially gone two whole weeks without biting my nails. This is the longest I've ever gone, if you don't include the times I wore acrylic nails on top of my own. I'm trying to avoid this at all costs. Fake nails are expensive and a pain in the ass. For now, I just keep telling myself not to do it. I'm also keeping my nails painted. I've been changing the color every two or three days, so I don't get bored.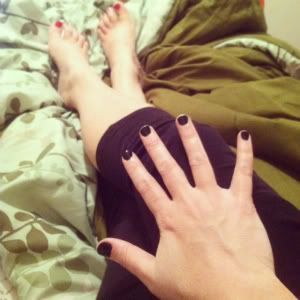 The other habit I'm trying to break is in direct relation to something I've been dealing with for the last six months. I'm officially an old lady who has to wear wrist braces for severe Carpal Tunnel Syndrome. It could be from typing and being on the computer all day at work. It could be from years of cheerleading and gymnastics. It could also be a direct result from another bad habit of mine. You see, I sleep on my side. When I sleep on my side, I often put my hand under my pillow. Apparently this is really bad for your wrists. I don't discriminate either. I flip back and forth from my right side to my left side all night long.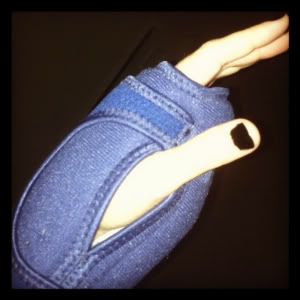 Both of my wrists feel like they're sprained. I also have shooting pains going up my arms halfway to my elbows. If you've ever had shin splints, that's kind of what this feels like. My fingers and hands also get numb. I was able to deal with the pain for a while, but it recently started to get a lot worse. Some days it gets so bad I want to cry. I've also been dropping tons of things and having trouble turning door knobs. I'm currently wearing the braces in the evening while I watch tv and also wear them to bed. The braces prevent me from putting my hands under my pillow. Technically, I can still do it, but it's extremely uncomfortable.
So, hopefully, I'll soon be able to call these two bad habits a thing of the past. I'm also hoping my wrist pain starts to diminish.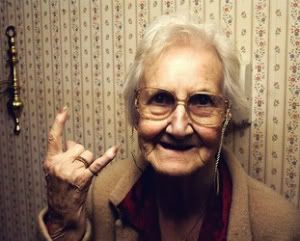 Until then, just call me Grandma.