There were a few items on last year's Project 52 list that made it onto
this year's list
because I was determined to accomplish them. Number fifty-one on this year's list was to meet a blog friend. Ladies and gentleman, this finally happened last week. The lovely Christina from
Christina's Pop Life
came through Memphis on a crazy, whirlwind trip with her sister and childhood friend. While in Memphis, before hitting up Graceland and Beale Street, Christina met
Terri
and I for lunch at Memphis' best burger joint, Huey's. I was super excited to meet Christina because she is one of my favorite bloggers. I'm not just saying this because she'll be reading either.
Christina and I have so much in common. She's a wife and mother of two. She loves celebrities and pop culture. To be more specific, she loves Britney Spears, vampires and Elvis. You can see why we'd be friends, right? We also watch all of the same tv shows. Seriously, she's awesome. If you aren't reading her blog, you're missing out. We've gotten to know each other pretty well through blogging, so when she mentioned a trip to Memphis I knew I had to meet her. Terri and Christina also read each other's blogs, so it was perfect that the three of us could sit down together. We talked about the lovely spring weather, air conditioning, how some parts of Memphis are really ghetto and others are not, boyfriends, husbands, kids, sports, and food. Christina is a total sweetheart. Hopefully Terri and I didn't seem too crazy. You get the two of us together talking and, well, it can probably be a little... IN YO FACE! I mean that in the sincerest way because we are really freaking awesome. We had a great time meeting Christina. The conversation was easy and fun. It was like we were chatting with an old friend. I hereby declare this blog meetup 100% successful!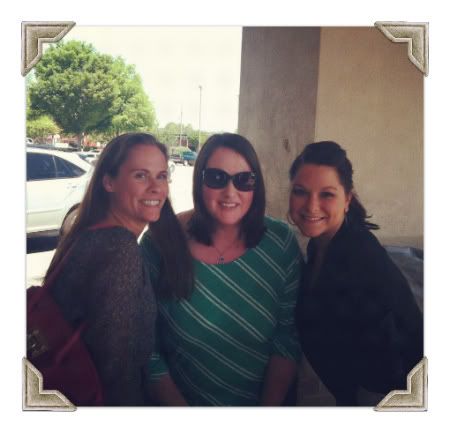 51. Meet 1 blog friend.