Today, I'm linking up for the first time with
{long distance loving}
for
Friday's Fancies.
This Friday's theme is
football frenzy
. We're some college football loving fools down south. In our house, we root for the Florida State Seminoles. Tallahassee is a long way from Memphis, so we don't always make it to a game every year. This year, we plan to make the trip at least once. I found this dress a couple of weeks ago while searching for game day dresses. I found several others I liked, but kept coming back to this one. It just looks like me. I'm really digging the ruched sleeves and its throwback colors. I can get away with wearing sandals since it'll still be warm in Florida.
Thanks for the personalized banner, Alison!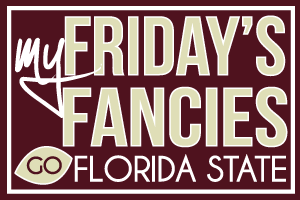 How cute would I look in this? Very. Very. Very. Cute.

dress // bracelet // sandals // scarf // bag