A brief look at the fashion from this year's Critics' Choice Awards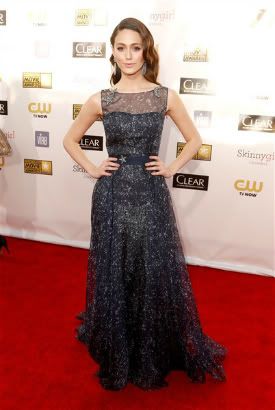 Emmy Rossum
I like this a lot. It's really pretty.



Jaime King
I like the top half of the dress and her red lips.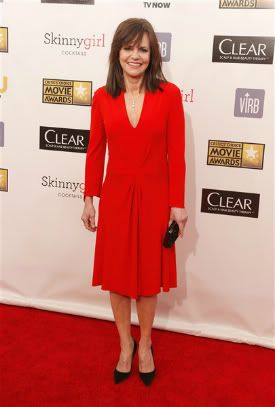 Sally Field
It's age appropriate, but rather boring.



Jennifer Lawrence
I think I'd love this if it didn't have the train. It seems totally unnecessary.



Molly Sims
There's a very hot chick under this matronly dress.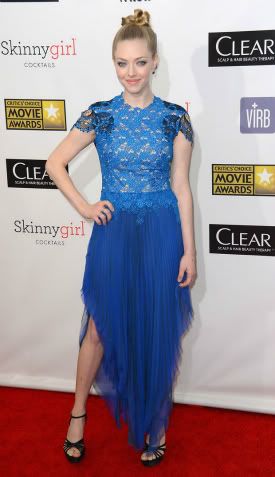 Amanda Seyfried
She's so pretty. Why the fugly dress and shoes?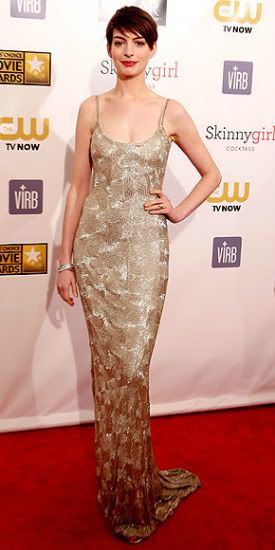 Anne Hathaway
Maybe if the dress were a different shape... I don't like the bust or spaghetti straps.



Leslie Mann
I hated this at first. The more I look at it, the more I like it. Maybe with different shoes...



Marion Cotillard
I can't get on board with the flowers. It's just too much.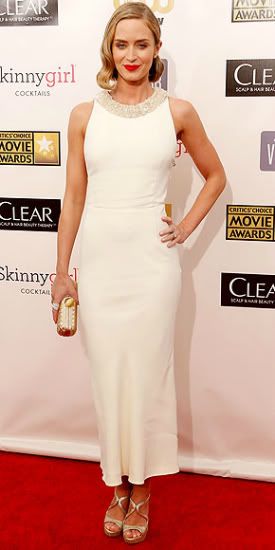 Emily Blunt
It has no shape, and it's a weird length.



Jessica Chastain
I really like the color, but something's off. The neckline? The straps?



Eva Longoria
I like the color and feminine details. It doesn't stand out though.



Elle Fanning
Um, no.



Naomi Watts
Hot. Hot. Hot.



Nina Dobrev & Ian Somerhalder
1. They look great separately.
2. They look even better together.
3. Love the shape of her dress. Love the color of her dress. Love the sparkles.
4. Love love love the heels!
5. Oh, and I love her hair too.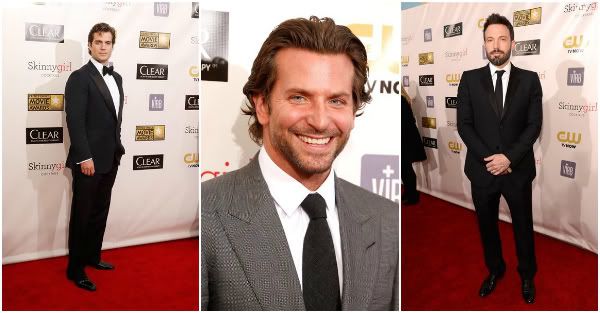 Henry Cavill, Bradley Cooper, Ben Affleck
Yes. Yes. Yes.

Don't forget. Golden Globes coverage starts tomorrow night.
I'll be on Twitter and Facebook throughout.
Follow along if you're into that sort of thing.
If not, enjoy your boring evening.
☺