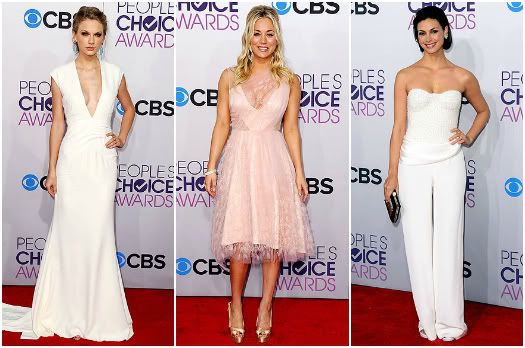 Taylor Swift, Kaley Cuoco, Morena Baccarin
Look at Taylor showing some skin after her recent break-up. She looks great!
Kaley looks like she's going to prom.
I don't dig pantsuits, especially when the pants are too big and too long.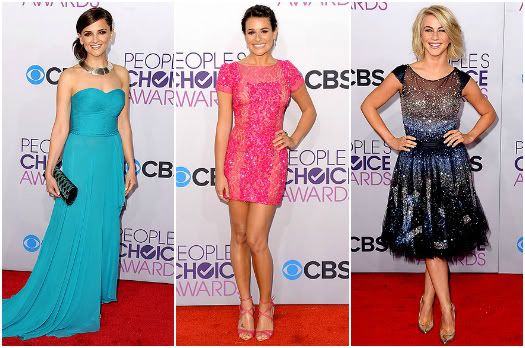 Rachael Leigh Cook, Lea Michele, Julianne Hough
Racheal looks great. I love the blue.
There's nothing special about the other two.
In fact, I think Julianne's is rather ugly.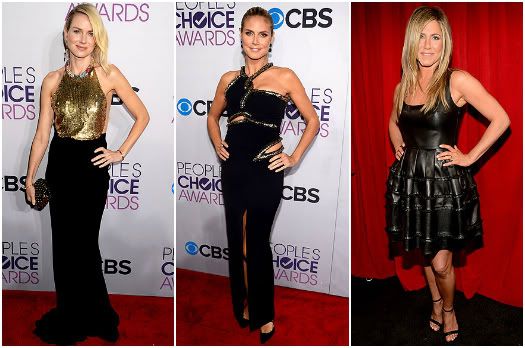 Naomi Watts, Heidi Klum, Jennifer Aniston
Naomi's dress wouldn't be so bad if the top half fit.
I don't hate Heidi's, but I don't love it either.
A leather a-line dress for the Golden Globes? No, Jen. No.


images via People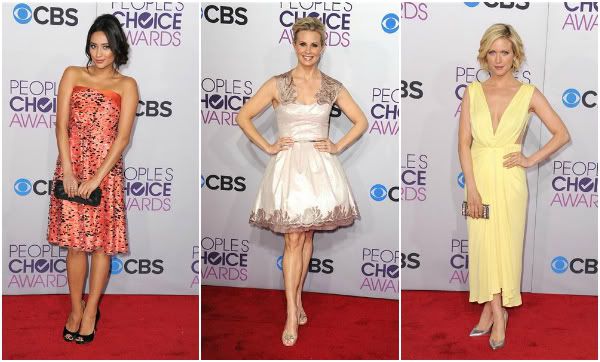 Shay Mitchell, Monica Potter, Brittany Snow
Shay looks cute.
Monica's dress looks like it belongs on an ice skater.
I don't like yellow on Brittany or the weird length.



Regina King, Olivia Munn, Ellen Pompeo
I like Regina's dress. It looks good on her.
Olivia's dress is too casual and not cute.
Even though Ellen's dress is really simple, I love it. She looks great.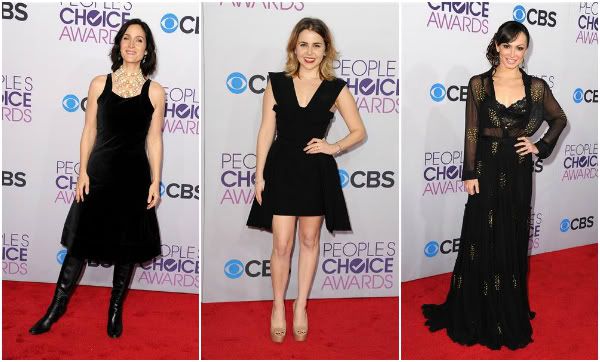 Carrie Ann Moss, Mae Whitman, Karina Smirnoff
You remember Carrie Ann Moss from the Matrix movies, right? She does not look good.
I like Mae's dress, but she's wearing it with the wrong shoes.
Karina's dress looks too old lady.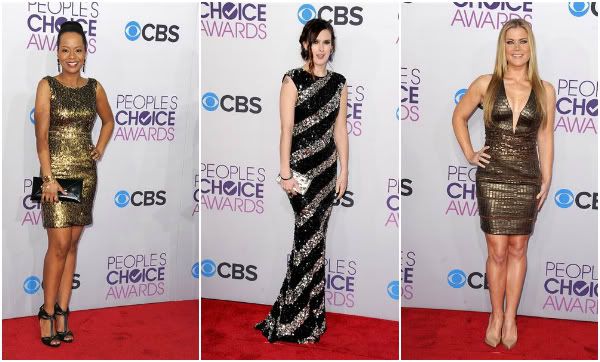 Tempestt Bledsoe, Rumer Willis, Allison Sweeney
Tempestt, Vanessa from The Cosby Show, looks great in gold.
I like Rumer's dress, but not on her. I think it's because her hair looks bad.
Allison looks like she's trying too hard.


images via MSN