Can you believe I'm late to my own party? I'm co-hosting Throwback Thursdays with some fabulous ladies today. I meant to get my post together last night, but cleaned the hell out of my kitchen instead. At least my kitchen is clean, right? Right. Ok, moving on...


the lovely hosts:
Ady from When in Doubt Just Add Glitter
Julia from A Blonde Walked into a Blog
Jennifer from Sweet Southern Wife

and my co-host, Lo from The Lo Down
I'm taking everyone back to 7th grade. It was the 1991-1992 school year. It was picture day. We got our individual pictures taken then they let us take pics with our friends. Here I am with my four best friends. I had bangs.. BIG POOFY BANGS! Ok, we all had big poofy bangs. Well, most of us had them. Karen was a trendsetter rocking the fringe. I'm showing off a white wife beater under my top. We've also got a floral sweater, polka dot sweater and straight up Cosby sweater. And Melissa is in a jumpsuit with a bib that's covered in flowers. I think she wins.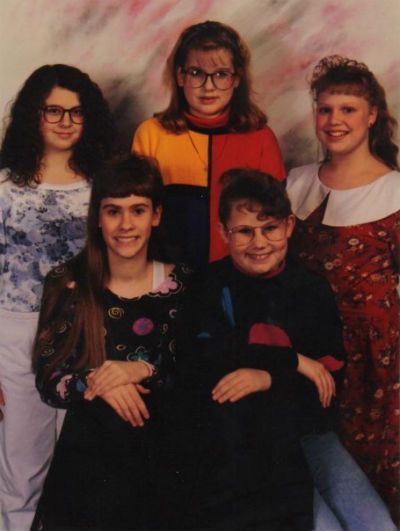 Front - me, Nikki
Back - Melanie, Karen, Melissa
This picture is on Facebook. Everyone's tagged. There are twenty-two comments because, well, it needed to be talked about. I still keep in touch with each one of these fabulous ladies. We try to get together at least once a year. If I've learned anything from this time in my life, it's to NEVER GROW OUT BANGS AGAIN!
Laugh all you want. I'm laughing too.
If you're looking to reminisce or have a good laugh, please visit some of the blogs below. If you too have an embarrassing photo, prom horror story or diary entry from when you were eleven, link up below and share it with the blog world. I promise I'll laugh WITH you and not AT you.