My weekend was busy to say the least.
Friday -- We ordered in from our local BBQ joint. If you live in Memphis, you have to give
Arlington Barb-B-Que Company
a try. The BBQ nachos are to die for.
Saturday -- Tony brought home donuts and coffee. After breakfast, we headed out for a day of errands. Spring finally decided to show up, so I was in capris and sandals with freshly painted toes. We went shopping for baseball supplies, including a new glove for the boy. Since the weather was nice, we dined on the patio at another of our favorite restaurants,
Jim 'N Nick's.
The kiddos and I went home while Dad shopped for a new lawn mower. I watched the Final Four games, then started watching back to back episodes of Veronica Mars. I'm a little late to the party, but I get it now. I love it!
Sunday -- I cleaned, cleaned and cleaned some more. I cleaned floors, walls, blinds, baseboards, and ceiling fans. I changed light bulbs, moved clothes around in closets and threw stuff away. Throwing stuff away is my favorite. Unfortunately, thanks to the dogs, you can hardly tell I cleaned the floors.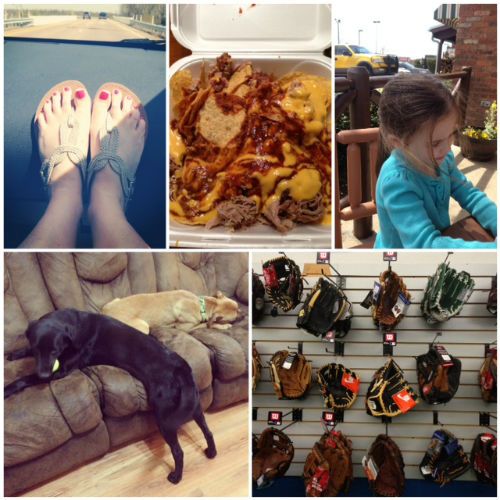 Now, I'm gearing up for a busy week.

There's birthday festivities, 4 baseball games, a 1st grade program, and a movie date.

Wish me luck.