I'm linking up with Helene in Between to share a list of songs that define me. I thought about explaining
why
these songs define me, but I figured it'd be more fun to let the songs speak for themselves. Each of these tracks represents a specific memory or time in my life. They are the soundtrack of Misty.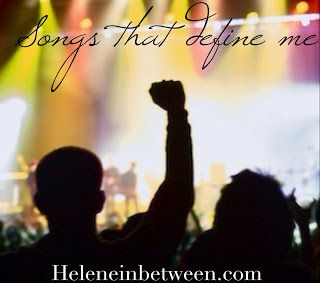 1. Young and Beautiful, Elvis Presley

Your lips so red, your eyes that shine
Shame the stars that glow



2. Do You Love Me (Now That I Can Dance), The Contours

You broke my heart cause I couldn't dance
You didn't even want me around
And now I'm back to let you know
I can really shake 'em down



3. Hangin' Tough, New Kids On The Block

Listen up everybody if you wanna take a chance
Just get on the floor and do the New Kids' dance



4. Bohemian Rhapsody, Queen

But I'm just a poor boy and nobody loves me
He's just a poor boy from a poor family
Spare him his life from this monstrosity



5. Smells Like Teen Spirit, Nirvana

With the lights out, it's less dangerous
Here we are now, entertain us
I feel stupid and contagious
Here we are now, entertain us



6. Possum Kingdom, Toadies

I'm not gonna lie
I want you for mine
My blushing bride
My lover, be my lover, yeah



7. I Swear, All-4-One

For better or worse, til death do us part
I'll love you with every single beat of my heart
And I swear



8. You Oughta Know, Alanis Morissette

And I'm here to remind you
Of the mess you left when you went away
It's not fair to deny me
Of the cross I bear that you gave to me



9. Strawberry Wine, Deana Carter

Like strawberry wine and seventeen
The hot July moon saw everything
My first taste of love, oh bittersweet



10. C'mon 'N' Ride It (The Train), Quad City DJ's

So to all of you girls, you know, I'm calling your name
Michelle, Tamika and Tanya wanna ride this train



11. Wannabe, Spice Girls

If you want my future, forget my past,
If you wanna get with me, better make it fast
Now don't go wasting my precious time
Get your act together, we could be just fine



12. Tubthumping, Chumbawamba

Pissing the night away, pissing the night away
He drinks a whiskey drink, he drinks a vodka drink
He drinks a lager drink, he drinks a cider drink
He sings the songs that remind him of the good times
He sings the songs that remind him of the best times



13. Intergalactic, Beastie Boys

When it comes to beats, well I'm a fiend
I like my sugar with coffee and cream
Well I got to keep it going, keep it going full steam



14. Cowboy, Kid Rock

I ain't no G, I'm just a regular failure
I ain't straight outta Compton I'm straight out the trailer



15. I'm Like A Bird, Nelly Furtado

Your faith in me brings me to tears
Even after all these years
And it pains me so much to tell
That you don't know me that well



16. Toxic, Britney Spears

Too high
Can't come down
Losing my head
Spinning round and round
Do you feel me now



17. Down Another Day, Limp Bizkit

Oh the winter I adore
Summer's gone forever more
Some days you come back to me
Seasons change to set me free



18. Are You Gonna Be My Girl, Jet

Big black boots
Long brown hair
She's so sweet
With her get back stare



19. Eyes On Fire, Blue Foundation

And just in time
In the right place
Steadily emerging with grace



20. Roar, Katy Perry

I used to bite my tongue and hold my breath
Scared to rock the boat and make a mess
So I sat quietly, agreed politely
I guess that I forgot I had a choice




What songs define you?