Since I have so many new readers, I figured it was time to re-introduce myself. I'm going to try and cover as much as I can. Longtime followers may benefit from this bio as well.
Let's start with my name. It's Misty. Misty is my real first name.
It's not a nickname.
It's not short for anything either. People often mistake Misty for Missy or Mitsy. My parents called me Boomer when I was a kid. On occasion, my mom still does. In high school, my nicknames were Mistro and Musty. My coworkers call me Misty May even though my middle name is Michelle.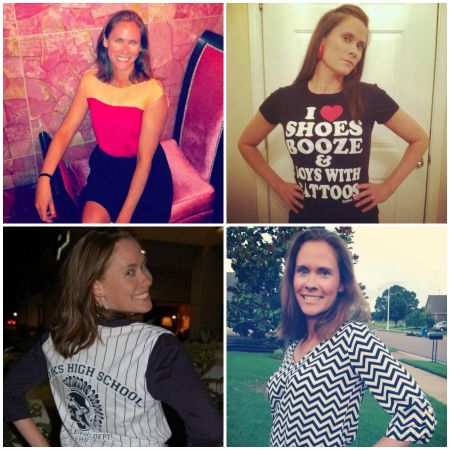 I currently live in Arlington, a suburb of Memphis, Tennessee. I have lived in the Memphis area my whole life. My mom, uncle and grandparents live here as well. I see them often. I've been estranged from
my dad
and his family since the age of 7.
I'm 36. My birthday is April 9. This means I'm an Aries. I'm not into zodiac signs and horoscopes. I am into my birthstone being a diamond. Buy me diamonds and I'll love you forever.
My husband's name is Tony. He's 40 and from Memphis as well. We met in an AOL chatroom in October 1997. We saw The Devil's Advocate on our first date. We got engaged on our dateiversary in October 1999. We got married May 14, 2002
on the beach
in Panama City after cancelling our church wedding at the last minute. Tony's a firefighter. He loves video games, working out and the Florida State Seminoles.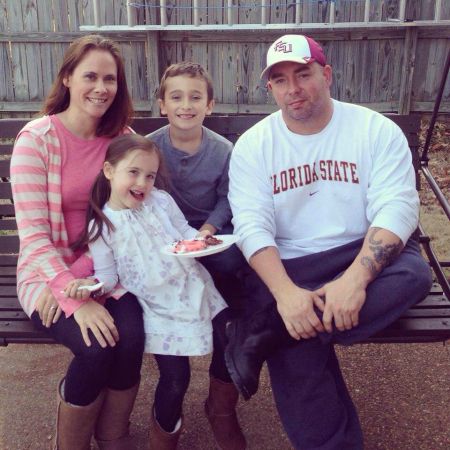 Speaking of sports, I have been a
University of Kentucky fan
since the 4th grade. In elementary school, I fell in love with the cheerleaders and their pretty blue and white uniforms. Blue is my favorite color. I watched games so I could see them perform at halftime. My love for the Wildcats has only grown stronger since. I cheer for my husband's Seminoles as well. I watch professional basketball from time to time, but we're college fans through and through.
Tony and I have two children. I always wanted a boy first and then a girl. I was thrilled when it actually happened. I was told at age 16 that I'd probably never have kids due to endometriosis. Take that, silly medical professional! Dain was born in 2005. Rory was born in 2008.
Both are named after celebrities.
Dain
played football
, but now focuses on competitive baseball. Rory is quite the soccer player, but has made the switch to softball and cheer. Dain is my sensitive and funny child. Rory is
my diva.
They're both night owls. Rory wakes up in a good mood like her dad. Dain and I think waking up early sucks!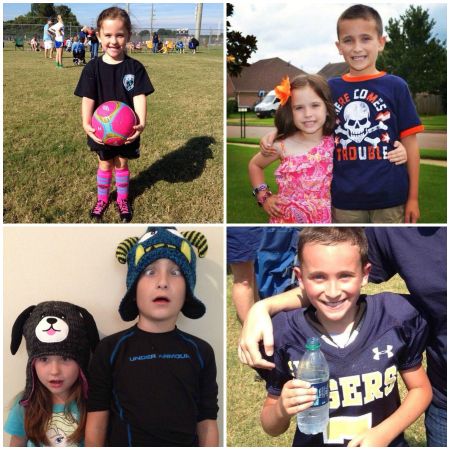 I currently work full-time in the mortgage industry. I'm a loan processor. I love my job, my boss and my coworkers. I went through a lot of jobs to get here, so I'm incredibly thankful. I also help run a youth cheer program that consists of 60+ cheerleaders ages 5-12. I may or may not drink a lot because of this.

I have four amazing girlfriends in my life. The first is Terri. If you've been reading this blog for any length of time, you know who she is. We are the opposite as much as we are similar. She is the most honest person in my life. If I look fat, she's the one who is going to tell me. Even if we aren't always on the same page, we know exactly what the other is thinking. Sweet Jillian has the patience of a saint. She constantly laughs at us, and we let her get away with it because we totally deserve it. Get the three of us together and we are a force to be reckoned with.

My other two girlfriends are my best friends from high school. Kelly and I became instant friends in 10th grade. We nabbed Becky when she arrived senior year. I'm surprised we don't get kicked out of restaurants because we are loud to the point of obnoxious. And I'm usually laughing so hard I can't breathe. Becky tells the funniest and most awkward stories. Kelly and I just look at each other and shake our heads. Our friendship went through a brief dry spell, but we picked up right where we left off. When I'm with them, I feel eighteen again.
Other fun facts:
I'm a picky eater.
I love cheese dip and seafood.
I'm a Coke drinker.
Kid Rock
and Britney Spears are my favorites.
I'm obsessed with celebrities and all things pop culture. Duh!
I'm always running late.
I'm a big fat procrastinator.
I'm 5'5" and have blue eyes.
I'm an only child.
I suffer from
Bitchy Resting Face.
I'm claustrophobic and afraid of heights.
There is nothing more terrifying than a cockroach.
Spiders are a close second.
I'm right-handed and can't whistle.
The only bone I've ever broken is my right thumb. Twice.
We have two dogs, Carly and Ranger.
I won my school's
spelling bee
in 4th grade.
I was voted "wittiest" my senior year of high school.
I can relate anything to an episode of Friends,
the best tv show ever.
I'm an optimist.
I
pee a little
when I cough or sneeze.
I was a nail biter up until two years ago.
I have either arthritis or carpal tunnel in both of my wrists.
I'm a list maker.
I crave salt over sugar.
I love the cold and hate the heat.
Mild temps in the fall are perfect.
I change
my hair
a lot.
I drive a white Nissan Rogue.
My first car was a
1975 Chevy Nova.
I'm extremely sarcastic.
Some might say I'm a smart ass.
I can hold my tongue when I need to.
I always try to be the bigger person.
I listen to all kinds of music, watch all kinds of movies and read all kinds of books.
Neither of my kids sleep in their bed. They both sleep on the couch.
I'm addicted to getting my blog redesigned.
I'm extremely impatient.
When I want something, I want it yesterday.
I'd rather buy new clothes than do laundry.
I love chevron and margaritas.
I will never ever go on a cruise.
I believe everything happens for a reason.
I also believe in karma.
I studied Criminal Justice in college
If you want to learn even more, you can click on the links throughout this post.
The End.