You know how hard it is to get into a mediocre book after you've finished a great one? I often feel the same way about television shows. After binge watching Breaking Bad, I had been desperate to find a new show on its level. I started deleting one show after another from my DVR because they couldn't hold my interest.
This all changed when I started my love affair with True Detective. I can't remember when or how I first discovered the show. I just knew I'd be watching after hearing the words Harrelson, McConaughey and HBO. The first 8-episode season premiered in January to rave reviews, and I was instantly hooked.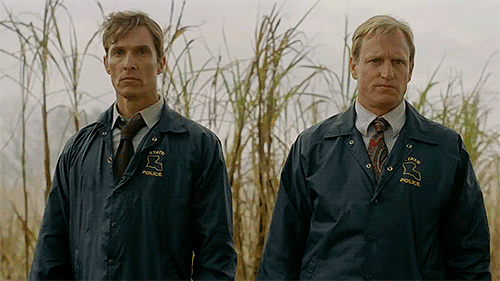 From HBO's website:
IN 2012, LOUISIANA STATE POLICE DETECTIVES RUST COHLE AND MARTIN HART ARE BROUGHT IN TO REVISIT A HOMICIDE CASE THEY WORKED IN 1995. AS THE INQUIRY UNFOLDS IN PRESENT DAY THROUGH SEPARATE INTERROGATIONS, THE TWO FORMER DETECTIVES NARRATE THE STORY OF THEIR INVESTIGATION, REOPENING UNHEALED WOUNDS, AND DRAWING INTO QUESTION THEIR SUPPOSED SOLVING OF A BIZARRE RITUALISTIC MURDER IN 1995. THE TIMELINES BRAID AND CONVERGE IN 2012 AS EACH MAN IS PULLED BACK INTO A WORLD THEY BELIEVED THEY'D LEFT BEHIND. IN LEARNING ABOUT EACH OTHER AND THEIR KILLER, IT BECOMES CLEAR THAT DARKNESS LIVES ON BOTH SIDES OF THE LAW.
To say the show is dark and creepy would be an understatement. As fellow blog friend
Kelly
put it, True Detective is like The Silence of the Lambs and Seven get married, then Seven realizes it has married into The Texas Chainsaw Massacre family. Aside from the show's darkness, it's brilliantly written and directed. And can you go wrong with Woody Harrelson and Matthew McConaughey? No. No, you can't.
Woody is great, but Matthew is better. McConaughey's portrayal of Rust Cohle is the best of his career, even better than his Oscar winning performance in Dallas Buyers Club. Rust is gritty, raw and deeply troubled. Yet through his pain and anguish, you're able to see his brilliant mind and sense of humor. And, like every single one of his onscreen personas, there's a little bit of McConaughey himself in the character. His honest performances are why I love him so much.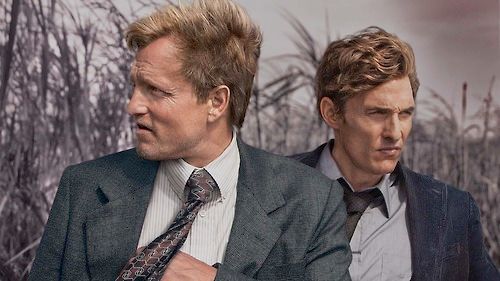 True Detective is one crazy twist and turn after another. Every week, I had a new theory. And every week, Woody and Matthew had me on the edge of my seat. I was so anxious and nervous the night of the finale that I actually wanted to throw up. That's good tv, y'all.
Currently, there's no final word on a second season. What we do know is that Harrelson and McConaughey won't be back. The show will reportedly refocus on two new detectives. Even though I'll miss Rust and Marty, I know that creator Nic Pizzolatto has great things in store for us. The latest buzz is that they're trying to get Brad Pitt.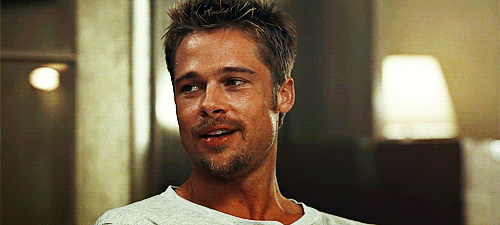 Oh, my True Detective lovin' heart is all a flutter!