Bloggers are often being labeled. There's mommy bloggers, cooking bloggers, fashion bloggers, lifestyle bloggers, and entertainment bloggers... just to name a few. Some blogs have a niche while others don't. Some of us have been blogging for years, and some of us are brand new. Regardless, we are all in it for the same thing. Or are we? In my research, I have found there to be 12 kinds of bloggers.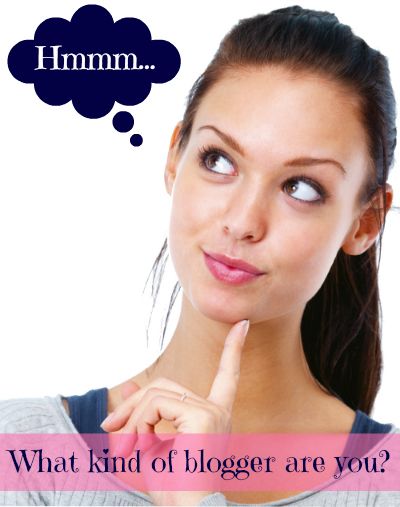 1. The
too cool for school
blogger
When you get seventy-three comments on a post and don't respond to one... This is you, asshole.
2. The
LOOK AT ME
blogger
Look what I bought! Look what I made! Do you like my new outfit? Here's twelve pictures of me wearing it!
3. The
wears fancy clothes for pictures, but jumps right back into sweats
blogger
That's right, honey. We're onto you. No one gets that dolled up for a quick trip to Target with the kids. And no one wears a tutu to their 9-to-5 office job. Even Carrie Bradshaw is giving you the side eye. For once, I'd like to see a style post with a t-shirt, yoga pants and a dirty ponytail.
4. The
mean girl
blogger
We all know this girl. She gripes. She complains. She points fingers. She tries to make herself look good by tearing others down. We only read your blog to feel better about ourselves.
5. The
dirty hippie
blogger
I'm looking at you mom who has eaten her own placenta.
6. The s
tay-at-home mom who wants you to think she has it all together when she really cries into her wine every night
blogger
The average mom who stays home all day with a toddler doesn't have an immaculate kitchen and spotless floors. The average mom doesn't host playdates in her pearls. It's ok to tell us you locked yourself in the bathroom after your 2-year-old peed on the couch for the third time in two days. Motherhood is messy, so show us your mess from time to time.
7. The
I don't care if you like me or not because I'm blogging for me
blogger
You don't feel the need to change who you are to fit in with the cool kids. You don't buy bubble necklaces and put your hair in a top knot because it's what all the other bloggers are doing. You aren't obsessed with numbers and stats. You're just going to keep doing what you're doing even if no one's reading because you're having fun.
8. The
I will work for comments
blogger
Instead of standing on a street corner begging for food, you comment on ALL THE BLOGS with a direct link back to your site. We see you there, but we're going to sidestep right past you.
9. The
I whore myself out for free shit
blogger
We don't know who you are as a person because you're too busy promoting someone else's product. What we do know is that dollas make you holla.
10. The
I don't know really know what I'm doing, but I'm going to keep doing it anyway
blogger
If you still have a scrapbook blog layout, you're doing it wrong. If you still don't know how to format pictures in your blog post, you're doing it wrong. If you're a no-reply comment blogger, you're doing it wrong. This isn't to say that a new blogger should know everything. That's just ludicrous. But you watch and learn. If you've been blogging for years and still don't know what's up, you're DOING IT WRONG!
11. The
tries too hard to be popular
blogger
If your blog button is on every single blog I visit, you're trying too hard. If you're in five giveaways a week, you're trying too hard. If you promote the same blog post on Twitter ten times a day, you're trying too hard.
12. The
I hardly ever blog, but refuse to shut this bitch down
blogger
If you only blog three times a year, maybe blogging just isn't for you.


So.. Tell me..

What kind of blogger are you?