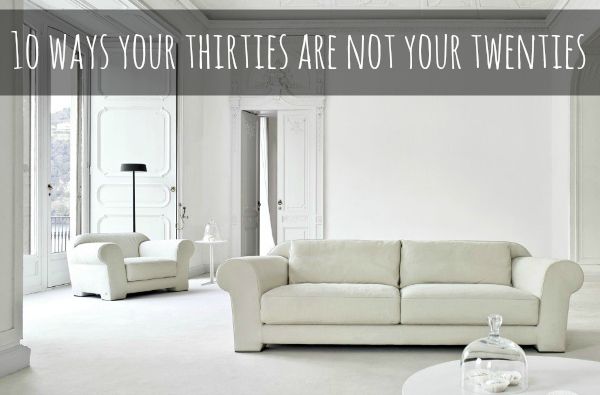 1. As much as I'd like to run errands in my pajama pants, I just can't do it anymore. After your freshman year of college, I strongly suggest making the switch to yoga pants.

2. I can't stay out all night, get drunk and go to work hungover the next morning. Once you pass a certain age, your body doesn't allow this to happen anymore. Trust me. I've tried. This is what sick days are for.

3. I don't know what it's like to sleep in on the weekend. My kids have internal alarm clocks that go off early 7 days a week. They also have sports every Saturday morning. Not to mention the long list of things I need to accomplish... might as well get up and get something done!

4. Nothing in my house is white. No white couches. No white carpet. No white floors. No white walls. You've heard of Cheetos dust and Kool-Aid stains, right?

5. When I drink, it's not for fun. It's because I am overworked, overtired and stressed out. I drink so I don't murder anyone.

6. Even though I'm constantly tired, I always stay up too late. If I don't, I would never get to read or watch tv without an audience.

7. I can never eat a meal without having to get up from the table at least once, be it at home or a restaurant. Where's my drink? I need another paper towel! Can I have some ketchup? I HAVE TO GO TO THE BATHROOM!

8. My body doesn't look like it did when I was 22, and it never will again. I have to work harder than ever to stay fit. It's not fun.

9. The stress in your thirties is real. I'm stressed about time. I'm stressed about money. I'm stressed for my kids. I'm stressed about the future. I'm stressed about the grey hair I need to cover up. I'm stressed about the lines around my eyes. I'm stressed about how much my body hurts even though I haven't done a damn thing. I'm stressed about being stressed.

10. On a positive note, I know who I am. I know my likes and dislikes. I know what I want and what I don't want. And when I look in the mirror, I'm happy with who I see. Confidence is sexy, y'all.

You should definitely enjoy all the fun and perks of being in your twenties, but I'm not lying when I say that your thirties can be fabulous. Just remember to get more sleep, drink more water and keep your alcohol intake in check. And find a great babysitter!

And, last but not least, surround yourself with people who make you better.