This shop is part of a social shopper marketing insight campaign with Pollinate Media Group® and EQtainment, but all my opinions are my own. #pmedia #Qsracetothetop http://my-disclosur.es/OBsstV
Since our family is super busy between work, school and sports, we often find ourselves exhausted at the end of the day. During the week, we crash pretty early. So I like to utilize the free time we have on the weekend. If at all possible, I like for us to do one thing as a family each week. Sometimes we watch a movie. Sometimes we play outside. But Dain and Rory's favorite family activity involves a board game, laughter and yelling. If they had it their way, we'd play one every night.
Q's Race to the Top
board game by EQtainment is our new favorite. It's not like your average board game which is why we all enjoyed it so much. Besides the obvious having fun aspect, Q's Race to the Top helps kids grow their emotional intelligence. It also helps with developing fine motor skills. You could be hopping on one foot or explaining how you'd handle an uncomfortable situation. There was even some crab walking across the living room floor. It happened people, and it was hilarious. It was a lot of fun to see my kids think about how they'd handle a rude person or what they'd do if they accidentally stepped on someone's foot in the store.
"I would say excuse me and then run and hide!"
This super fun and original game is for ages three and up. You simply roll the dice, pick a card and do or say whatever it asks of you. Since I have a 5-year-old and an 8-year-old, I like the fact that it's not too hard for the young one to play or too lame for the older one. It's not easy finding a game that both kids and adults will love. Q's Race to the Top was fun for the whole family. I was amazed at how competitive my kiddos can be. Even when there's no prize involved, they'll give it their all. There's nothing better than saying, "I win!"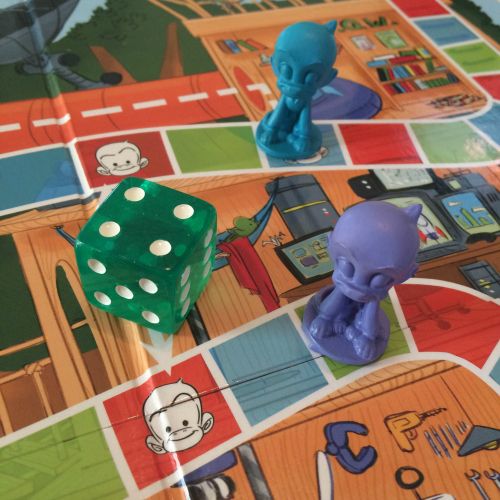 EQtainment helps kids practice emotional intelligence through fun and affordable games, storybooks and videos. If you'd like to learn more about Q's Race to the Top and EQtainment, check out their Kickstarter campaign
here,
or watch the video below. I can't say enough positive things about this game. It's way more entertaining since it involves the whole body, including your brain. And what mom wouldn't love a game that helps their child improve social and emotional skills while having loads of fun!
The first time we played the game in bed in our pajamas. We played again last night while snacking on chips and dip with the Emmys on in the background. Unfortunately, I didn't get any pictures of us playing the game because we were all sweaty and tired from being on the ball field. But how cute are my little athletes?


Also, it's not often that my husband gets into board games.

He actually gives this one two thumbs up.