I ran across two blog posts last year with a similar theme, dating and old boyfriends. Both of these posts, which can be found
here
and
here,
were inspiration for today's fun post. Sorry it took me so long. This has been in draft form for a really long time. You should also know that I laughed a lot while putting this together. Enjoy!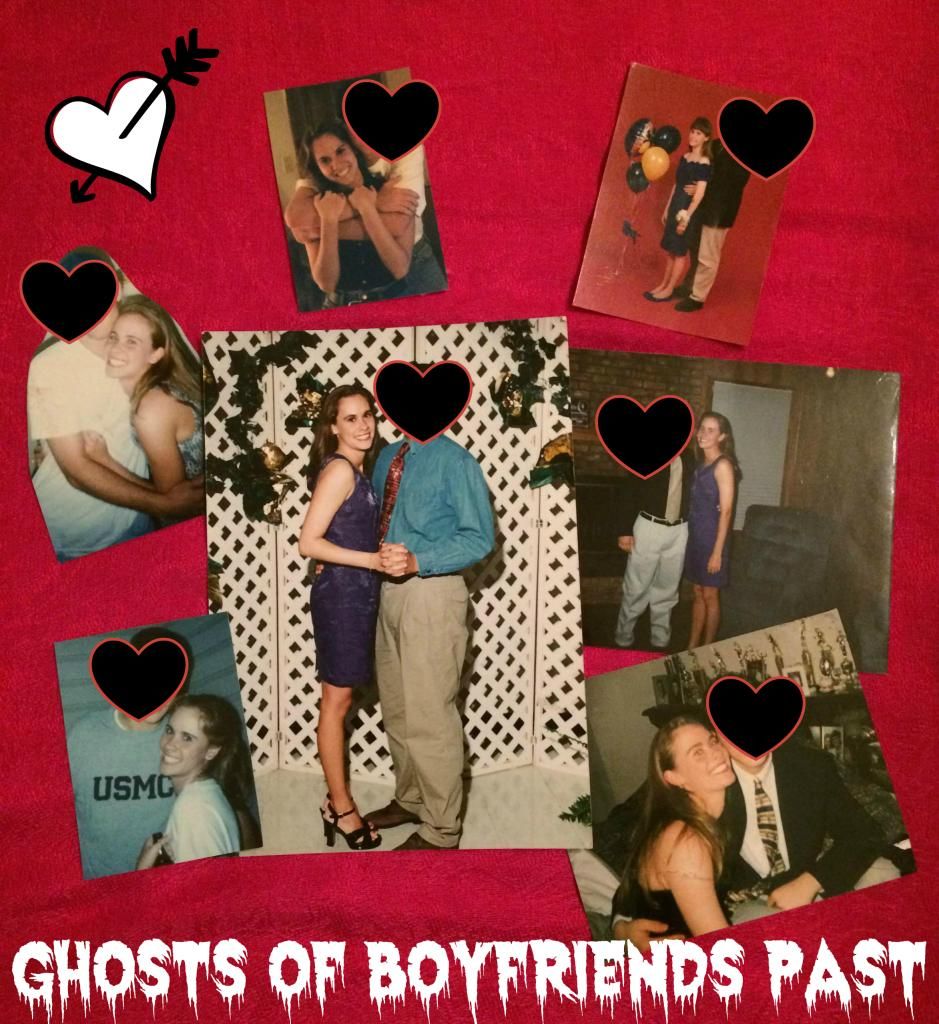 1. The one with my first kiss
When I was in 7th grade, I had an 8th grade boyfriend. I was the first of my friends to have a boyfriend, so it was an exciting time for all of us. And by all of us, I literally mean all of us. The boy and I met after class one day to have our first kiss at my locker. I'm guessing it was discussed beforehand because all of my girlfriends were there to witness it. Looking back, I have no idea why we thought this was a good idea. We can certainly laugh about it now, and I'm certain we laughed about it then too. I'm really glad Instagram didn't exist back in 1992.
2. The one with my first date
I frequented a place called Casper Creek in high school. It was a family-friendly establishment with live country music and line dancing. I met an older guy there one night. I was 16. He was 18. He asked me out on a date. Since I was finally 16, my mom let me go out with him. Alone. In his car. And, of course, we went to Casper Creek after grabbing something to eat. He was cute with a killer smile. He wore Wranglers and a cowboy hat. I was smitten for a second. When the jerk realized I wasn't a slut bag, he moved on. And I moved on too. With his friend.
3. The one with my first boyfriend
The jerk from above had a friend. The friend was really cute. One night at Casper Creek, I got really brave and asked him for his number. To this day, I still can't believe I did this. We exchanged numbers and started dating soon after. This was my first real relationship. He took me out all the time. I would go to his house to swim. He had a big family which I loved. The romance was shorter than I would have liked it to be though. When he broke things off, I was devastated. He did his best to let me down easy. I was heartbroken, but never angry. We remained friends for many years and almost started things back up again, but life got in the way. He's my favorite ex and was the best first boyfriend a girl could have.
4. The one where love knocked me on my ass
When I attended my first high school party, I met my first love. He was a freshman in college. I was a sophomore. I set my sights on him as soon as he walked in the door and followed him around the rest of the night. You should know that I was a little
tipsy
drunk. Even though I never thought he'd be interested in me, he asked for my number. We had our first date the next week. You should know that a large part of this date was spent in the emergency room. We dated on and off and on and off and on and off for three years. It was the best of times. It was the worst of times. He broke my heart. I broke his heart. In the end, stubborn heads prevailed. It just wasn't meant to be.
5. The one where nice guys finish last
During one of my many breakups with the guy from above, I met a cute boy at a dance club. He was there with his friends. I was there with mine. There was a mutual attraction on the dance floor. Once again, numbers were exchanged. When we were leaving, one of my guy friends asked if I realized who he was. As luck would have it, he was the star running back for our biggest rival's football team. This did not bode well for our short-lived relationship. Everyone at school, parents included, gave me a hard time. They called me a traitor and teased me relentlessly. It was really awkward when I had to cheer on the opposing sideline at his football games. It was also really awkward when he took me to one of his school dances. Everyone stared, especially his head cheerleader ex-girlfriend. He didn't care though. This guy thought I was the best, and I just thought he was alright. I was still messed up over the boy from above and really never gave him a chance. Not only was he a hottie, he was a gentleman. Shame on me!
6. The one with the younger guy
When I was a senior, I dated a freshman. Yes, you read that right. I was 18. He was 16. What can I say? He was the new kid, 6'6" and really cute. He made me laugh and thought I was
the shit.
This kid was ready to get laid though. When he didn't get any from me, he dumped me for a voluptuous 15-year-old. Dick. I think I should mention that this guy is currently in a relationship with an older woman. I like to think it's all because of me.
7. The one with the older guy
There's always an older guy, right? I turned 18 in April of my senior year. My best friend turned 18 in May. On the eve of her 18th birthday, we planned to hit our very first club at midnight. We met up with some friends who had graduated the previous year. They took us to their older friend's apartment to drink before going to
da club
. This older friend bought us liquor. I got really drunk and started to hit on him. Next thing I know, we're making out at
da club
. What? It happens. I found out the next day that he was 24, divorced and had a son. Or was he 26? Anyway, he was
old.
I lied to my mom about how old he was, dated him briefly and finally had to move on when he told all of my guy friends he wanted to have sex with me and my best friend... together. #OhHellNo #DirtyOldMan
8. The one with the country singer
This story takes us back to Casper Creek. If you're keeping count, this makes the third guy I dated from my favorite country joint. What can I say? It was a happening place. I was there dancing with my girlfriends when I saw a really cute guy in a cowboy hat talking to one of my friends. As soon as I could corner my friend, I asked him about the cute cowboy. He started to laugh and said the cowboy had just asked about me. Y'all, it was fate. We were introduced and exchanged numbers to talk at a later time because he was kind of busy. I didn't realize why until I saw him go on stage! The singer and I talked for a couple of months and went out a handful of times. He would come over in his big ol' truck. We'd sit in the back, and he'd sing to me. It was seriously the best until it wasn't. I liked him a lot, but he just stopped calling. Since I'm not one to bother someone who obviously isn't interested, I never knew what went wrong. I like to think he's gay.
9. The one where she loses her virginity
I briefly talked about this back in 2010. You can read about it
here.
I was 18 when I lost my virginity to a guy I had just met. Unlike most girls, my first time was great. He was hot. The sex was good. Surprisingly enough, I walked away from this experience with zero regrets. I guess the saying is true. When you're ready, you're ready.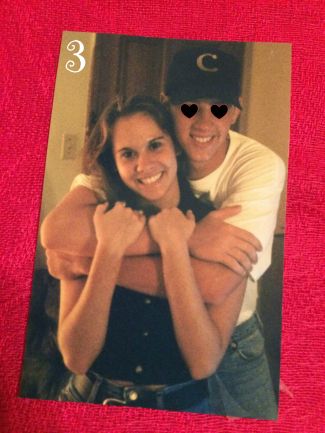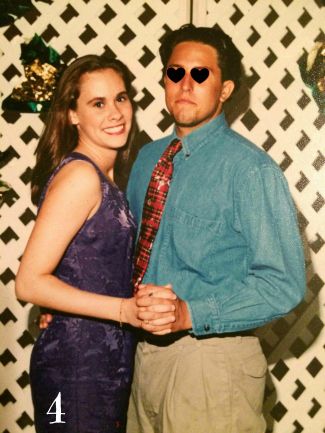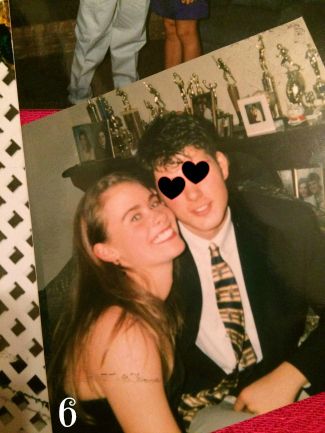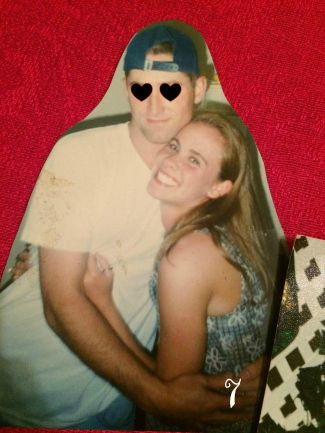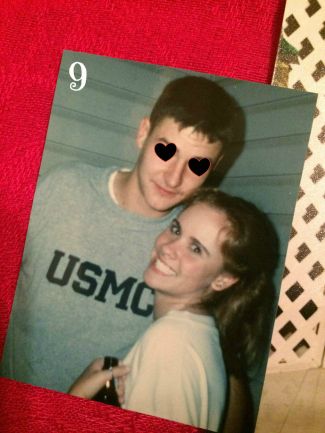 Important Notes:
I'm friends with
two
three of these guys on Facebook.
One's divorced with kids.
Two are married, one with kids and one without.
One has a kid, but I'm not sure if he ever married.
Two have never been married and don't have any kids that I know of.
One's a cop. One was a firefighter, but has since moved on.
One's in finance. Two are military men. (USMC + Navy)
The guy wearing the USMC t-shirt is not the Marine.
One's a redneck. One's a triathlete.
There are two I know absolutely nothing about.
All but one tried to start a relationship back up with me after we broke up.
What can I say? I'm awesome.
The country singer currently resides and performs in Nashville.
He's not a household name though.
See? Wasn't this fun!

Any questions?