Let's start with Jenna Dewan Tatum in Zuhair Murad. She's quickly becoming one of my favorites. #GirlCrush I went back and forth on whether or not she'd make the final cut for best dressed. I just can't get over how great she looks in this white gown. It's sexy, but not
too sexy
. I love the pops of silver. Her accessories are perfect. I love her sleek hair and coral lip too. She wore another Zuhair Murad to the Vanity Fair Oscar party. I love it too. Fierce!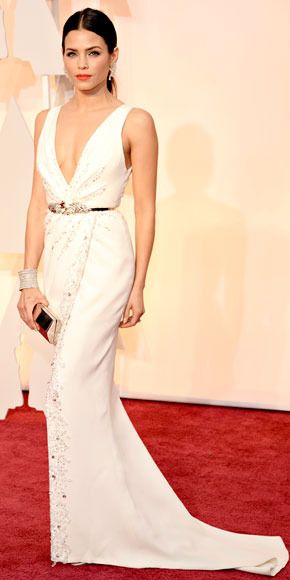 Next up, we have Jennifer Aniston in Versace. Jen doesn't usually make my best dressed list because she tends to play it safe. I liked this dress when I first saw it on the red carpet, but it didn't blow me away. When she presented, I was able to see just how pretty it really is. The color, beading and fit are perfect. I don't even hate that the bottom half is sheer. Designers, take note. This is how you do sheer. Her hair and makeup are signature Jennifer Aniston. I can also appreciate that she doesn't have any accessories. Why have them when they aren't necessary? Rachel Green would be so proud.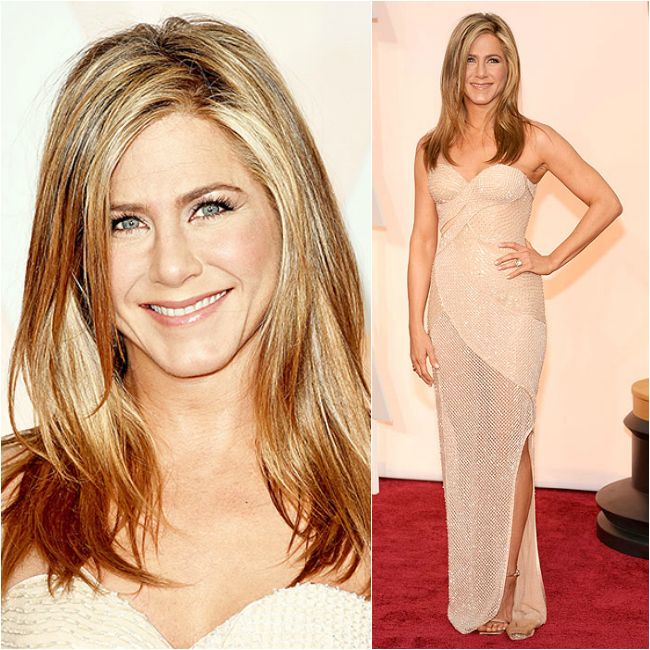 Before the show started, I predicted Rosamund Pike would finally get red carpet glam right. Up until Oscar night, she'd fallen a little short this awards season. This red Givenchy gown is gorgeous. I don't typically like red dresses. I don't even typically like this style dress. Something about this one stands out. The fit is great. The color is perfect for her. I love that she went with matching red heels. She kept her hair and makeup simple, letting the dress speak for itself. And it says, "Look at us! We're beautiful!" I'm thrilled she got it right.
Two red dresses on my list? I can hardly believe it. Dakota Johnson keeps it simple and chic in this Saint Laurent gown. I think what I love most is the knotted diamond shoulder strap. That's how an ordinary dress goes from nice to wow. Like Rosamund, Dakota kept her hair and makeup simple. I love the pop of color on her lips, the ponytail and wrist bling.
Last but not least, we are down to my absolute favorite. Margot Robbie slayed the red carpet in this Saint Laurent gown with Van Cleef & Arpels jewelry. I know this look isn't for everyone, but I love it. The dress itself is extremely simple. It works for two reasons. 1. It fits. 2. It's styled properly. Her sleek bob, red lip and barely there eyeliner are perfect. And the necklace, which I probably wouldn't like any other day, pulls it all together. Without the necklace, I don't think this look would work for the Oscars. I may be alone in this, but I stand by my choice. She looks flawless.



So, who do you have for Best Dressed?


images via People + Us Weekly