Aside from the Oscars, the Met Gala is my favorite red carpet event. The fashion is typically more daring and outlandish. This year's theme was China: Through the Looking Glass. Some people took the theme to heart. Others were more subtle with their interpretation. And some ignored the theme altogether. If I were attending the Met Gala, I would definitely think outside the box and go with something I wouldn't normally wear.
The most popular color combo of the night seemed to be black and red.



ALLISON WILLIAMS
This dress is too big for her frame.



JOURDAN DUNN | JESSICA HART
Jourdan looked amazing on the red carpet.
Jessica's dress is pretty. Her hair is distracting though.



SARAH JESSICA PARKER | OLIVIA MUNN
Most of the time, Sarah Jessica Parker can do no wrong.
I actually like the dress.
The headpiece is just a lot to take in.
But would it have been boring without it?
Olivia's dress is growing on me.
I can respect that it's different and interesting.



SIENNA MILLER | POPPY DELEVINGNE
Sienna looks like a matador who forgot her shirt.
Poppy looks like a craft project gone wrong.



VANESSA HUDGENS | ZENDAYA
Vanessa's look is cute.
I wish she'd skipped the earrings though.
I feel like Zendaya's look fits the theme, but could have been better.
I do like her hair and crown-thingie though.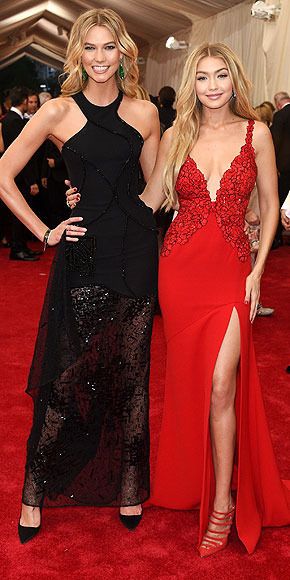 LINDA EVANGELISTA | KARLIE KLOSS + GIGI HADID
I don't like Linda's dress at all.
Karlie's dress should be lined.
Gigi's dress is pretty, but I'm bored.


images via People